Meriah! Hari Pertama Road to Willow Baby Expo di Surabaya Ramai Pembeli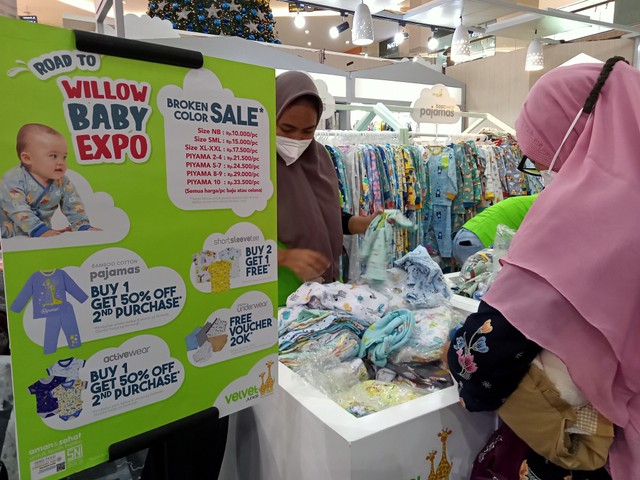 Lebih dari 100 brand ternama di Indonesia menyemarakkan Road to Willow Baby Expo yang digelar Willow Baby and Kids bersama Dyandra Promosindo di Grand Atrium Pakuwon Mall Surabaya pada 10-12 Desember 2021.
Mengusung tema Candyland, pameran tersebut menghadirkan beragam produk kebutuhan bayi, anak, dan ibu di area seluas sekitar 900 m2. Event ini membidik pengunjung terutama usia 23-50 tahun dan keluarga.
Para pengunjung bisa memperoleh berbagai kebutuhan bayi, ibu, dan anak dengan harga diskon. Pengunjung juga berkesempatan mendapatkan promo produk setiap hari lewat program Morning Attack, Flash Sale, Scan & Shop hingga Lucky 12:12.
Go Andreas Sugondo, Direktur Willow Baby and Kids, mengungkapkan Road to Willow Baby Expo merupakan milestone menuju Willow Baby Expo 2022 mendatang. Ia juga berharap event ini dapat dimanfaatkan oleh para pelaku bisnis dan industri dalam upaya pemulihan bisnis dan ekonomi.
"Event ini bertujuan untuk memenuhi kebutuhan bayi, anak dan ibu, serta mendorong pertumbuhan produk untuk bayi, anak dan ibu," 
Road to Willow Baby Expo dimeriahkan pula dengan bermacam acara pendukung seperti Instagram Challenge melalui akun @willowbabyexpo, yaitu Mom & Me Photo Challenge dengan tema "We Conquer the World" dan "OOTD with Boho".
Di beberapa tenant seperti Velvet Junior juga menjual piyama mereka dengan kondisi khusus mulai Rp 10 ribu. Bahkan di tenant Bohopanna juga memberikan diskon hingga 30% tiap pembelian Rp 500 ribu.
 salah seorang pengunjung tenant Velvet Junior terlihat antusias saat memilih piyama yang dijual tenant tersebut.
"Mumpung harganya murah dan ini lagi ada flash sale, jadi gercep (gerak cepat)
Setiap hari mulai Jumat 10 Desember sampai Minggu 12 Desember 2021 diadakan Morning Attack selama jam 10.00-12.00 WIB dengan beragam promo dari berbagai brand ternama.
Turut digelar talkshow dari RSIA Lombok 22, lelang produk, games dan kuis. Pada puncak penyelenggaraan pameran akan dilakukan pengundian lucky draw secara virtual